Are you this person who loves mediterranean vibe and lives far away from the sea? You can bring some of this to your home garden. Mediterranean garden style is characterized with bright and patterned tiles, soft colors, clipped hedges, drought tolerant plants, gravel walks.
You can achive this mediterranean look of the garden with few steps. You will be able to find them out with help of this article, so keep reading!

What is the mediterranean garden style?
To bring up this mood of those sun soaked spaces things like this will help:
tiled patios,
pale gravel,
walls painted in vivid colors of for example blue or mustard.
Mediterranean gardens are low maintenance, fragrant and also beautiful architectural plants.
How to bring mediterranean climate to your garden?
In fact to bring this mediterranean vibe to your garden you should follow some steps. Those steps are:
Provide shade in seating areas – seating areas in mediterranean climate are essential. Those areas provide a place for relaxation in a summer time. This is a great place to enjoy your morning coffee. Pergolas are wonderful when it comes to providing the shade which is needed. Pergolas also are amazing even more when are covered with perfumed and climbing plants which are lovely spreading in the air. Maybe go for colorful pelargoniums to add some flower color.
Pots/containers – when it comes to mediterranean gardens terracotta pots and also jars and very popular. They can be used as focal point in the gardens or for container gardening. Remember that potted plants doesn't have as much of the water reserve as plants that are grown in the ground so water them regularly.
Gravel floor – this is done to help plants cope with too little water for longer time thats why lawns have been reduced and people started using gravel or paving or even mix of those two.
Succulents and drought tolerant plants – those plants are ideal for this climate. Heat loving and drought tolerant plants are loved by mediterranean garden. The scent of fragrant herbs is also very important in mediterranean garden.
Raised beds – raised beds are an amazing opportunity to create well drained sites that plants from mediterranean gardens loves. However it is not only this that they are useful they also look very much attractive.
Clipped hedges – those are ideal to give you a bit of privacy but they also just look amazing. Those hedges also make a wonderful foil.
Mediterranean garden plants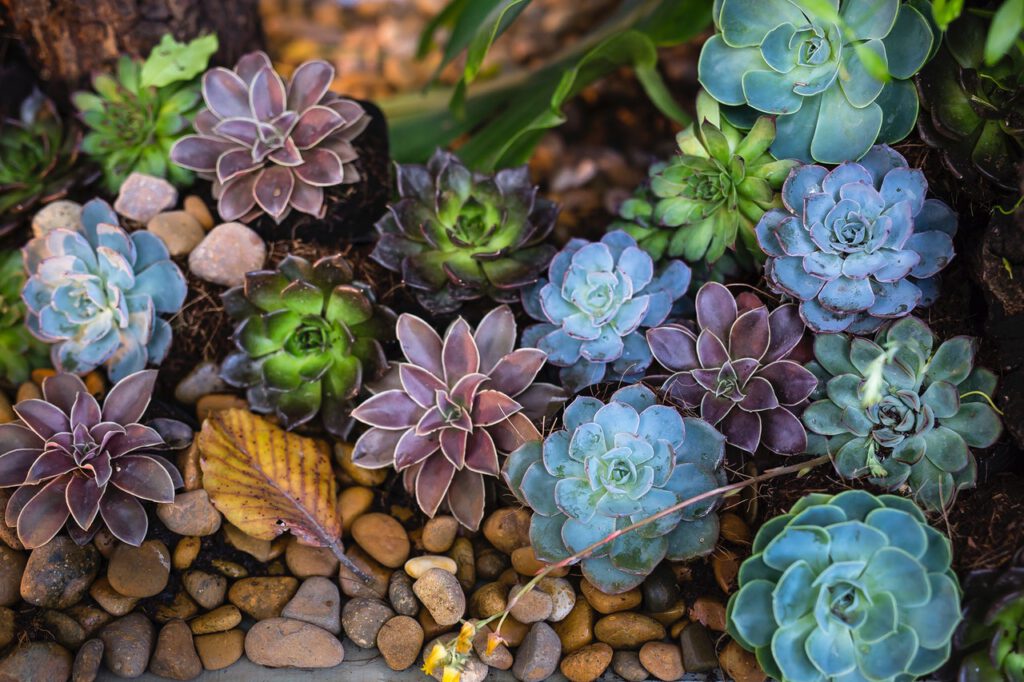 Here you will be able to find out what are the best of mediterranean plants that can go to your garden. Here is the list of them:
Rosemary – it is amazing because is offering the aroma which can be given only by herb. Rosemary also will look beautiful in containers as well as in beds. Rosemary also is producing beautiful looking purple blooms.
Succulents – in fact succulents comes in many sizes and colors so the can add a beautiful texture to containers or even a rock gardens. Those are sun loving plants and in fact do not require much of the effort.
Santolina – it is also known as cotton lavender. Santolina has beautiful silver and very aromatic leaves. In middle of the summer as well as in the end of it this plant has lovely yellow flowers.
Olive tree – if you have enough space you can go big with olive tree. With olive tree you will be able to add some extra foliage to our mediterranean garden. If you live in a colder area it is a good idea to grow it in a pot so you will be able to bring it under cover.
Citrus trees – those trees will bring to your garden design wonderful mediterranean charm. They are also happy to grow in pots so when growing season is over and it gets colder you can easily bring them under cover. May go for lemon trees!
Fig trees – fig tree may bring this wonderful vibe of holidays that you can have in your own garden. They can be grown in the pots! In fact fig tree gives more fruit when their roots are confined in a pot.
Stachys byzantina – this is also called lamb's ears. Those are grown most of the time because of its rich rosettes of very beautiful velvet, silver leaves which are shapend in a shape of a tangue.
How to plant in a mediterranean garden?
Are you considering on having your own mediterranean garden? If so here you will be able to find some adviced on how to start it.
First of all you should know that spring is ideal time for planting a Mediterranean garden. Why? Well because the soil is warmed up. You should also choose the right plant for the right place take into the consideration factors like soil and aspect. You should also consider getting as close as to thet plants native growing conditions as it is only possible.
Mediterranean plants are the loving sun plants. They adore sunnier climes so the good light quality is very important so try of avoiding the large trees which are going to take away the sun from them.
Tips
if you live in climate in which cold winters are appearing you should get yourself frost-proof terracotta for your mediterranean plants. This will help them survive in colder climates,
think of getting a water features because they are great in providing good relief from very hot and dry summers,
if you want to have an attractive green backdrop all year round you can go for italian cypres,
make sure that each container have good drainage and fill all pots (the bottom if it) with crocs or stones before you will add compost.
Conclusion
Remember that mediterranean garden ideas may require you to totally remodel your garden so choose the time for it which is not going to be that busy.
If you are scared of planting a mediterranean plant in your garden don't be just remember they require a full sun and if you live in a cooler climates you should be able to provide them some kind of sheltered spot.
Just go for it and create a mediterranean on your own if you love the mediterranean region there is nothing to wait for.