Styling a bed you should remember that it should look inviting. It is doesn't matter if you are styling a master bedroom or guest room bedroom. Bed should be looking like a promise of good sleep.
With this article you will be able to find an idea for all of the beds in your house. You will be able to find out the use of everything starting with cozy blankets coming to sheets. Just keep reading to find out all of it.

Style your bed step by step
If you want to style a bed you should follow those simple steps and you will love it for sure. Here goes the list of steps:
if you aren't the fan of your bed frame you can use valance sheet set to hide it,
put a mattress topper this will add way more of comfort and also great support,
cover your mattress protector this will help you prevent the stains and mites,
if you want to get some of the hotel look go for it and use a flat sheet to cover the mattress,
now times comes to layer a top sheet facing down the mattress,
when you are done with that drape a duvet cover on top and then just fold back the top sheet this will create a cuff,
add 3 euro shams (if you are styling a bed which is queen bed use 2 of them),
now just throw bedspread and if you are craving a hotel look go for a runner at the end of the bed,
the last step is to layer up a selection of cushions in right color scheme.
Those great tips should be very much helpful for you to add interest to the focal point of the room.
How to style a bed with pillows
Bed is a focal point of the space if you are wondering how to style a bed here is a perfect place to find it out. With our help you will be able to treat yourself with a hotel styled bed not just time to time but every night.
King sized bed
King size bed is big bed (76" x 80") and is perfect for parents who share a bed with their kids or big pets. If you aree about to style a bed which is a king bed you will have to consider having three european pillows at the head of the bed. With this you will make it feel like it's full. Gaps (those big ones of course, let't not make ourselves crazy) will make your bed look bad and in some way "cheap". When it comes to pillow arrangement you should start thinking out of the box. There is no a must for laying pillows perfectly, think of laying them on their back on the one side of the bed which will add a little bit of horizontal look.
Queen bed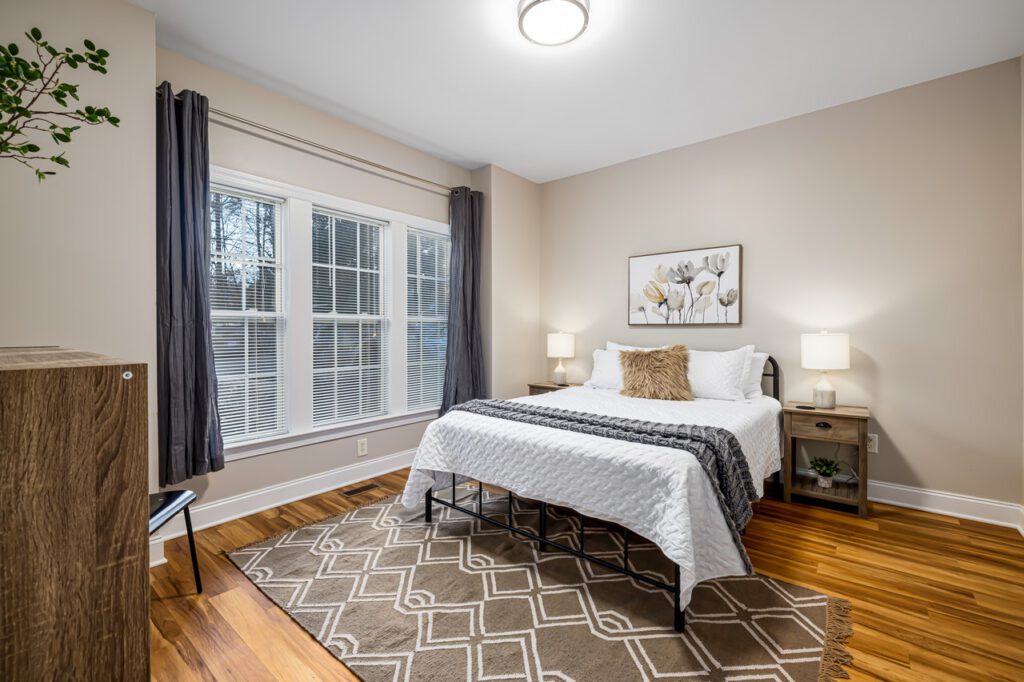 If you are about to styling a bed which is a queen bed and it comes to pillow arrangement you should add two euro pillows. Also at least six pillows at the head of the bed is just a must if you have queen bed. How should it be placed as? Well You will want to have two euro pillows placed against the headboard and four sleeping pillows in front of them. In front of those you will want to place long lumbar pillow.
Flat sheet use
Flat sheet has a great potential thatr you may never paid attention to. With use of flat sheets you can bring the hotel styled bed into your own bedroom. Flat sheet is great when it comes to protection of your dovet cover. However flat sheets can also be used for decorative purposes because it is making the bed look more welcoming.
How many layers should the bed have?
Are you wondering how many layers should your bed have? Well the answer is between three and seven layers is just right. Those layers are:
a mattress protector,
bed skirt,
flat sheet/ fitted sheet,
top sheet,
duvet insert/comforter,
blanket/throw,
pillows.
Tips on how to style a bed
it may sound stupid but if you are a animal owner and they like to spend time in your bed give up on white sheets and all of the white bedding,
beautiful headboard can do much when it comes to bed styling. If you do decide on creating a headboard you should pay attention to things like its height, shape and colors,
you can throw blanket at the end of your bed. You can use lager blanket so when it gets colder at night you can use it to cover yourself,
if you want to add a litlle bit of character to your bedroom you can place some decorative pillows for the day time,
remember that it is the texture which is making the cozy and inviting bed, so maybe think about woolen blanket?
extra layer will bring the cozy mood to the space of your bedroom,
If you are a big fan of neutral shades style your bed beautifully with those fabrics.
Conclusion
Are you ready for styling a bed on your own now? Well if so just remember that it all depends on personal preference so it is really up to you what kind of bedding you will use or what kind of textures you will choose. There are many different textures that you could use in fact.
Remember that bedroom and bed is the place where you gonn take rest after a long day of work or school.