Garden room is just a perfect space which keeps the balance between indoors and outdoors. Having a garden room you should remember to keep its airness and homely warmth. With help of your garden room you will create a wonderful extra room that is going to be placed in this lovely outdoor space.

Stunning garden room ideas
Do you maybe have a clottered shed which is out of use? Or maybe you have some free place in your garden that is a perfect plac for garden room? Well if so here is a perfect place for you. Let's talk about some garden room ideas. Create a beautiful extra space for a home gym, home office, art studio space, kid's play room or even games room. Here goes some cool ideas that you could usefor yourself:
Garden studio – garden studio room is wonderful when it comes to extra home office space but also it can work well as studio place. To add some of light and airy look to your garden studio you could use white glossy paneling,
Garden guest house – guest house is an amazing idea to give your guests a little bit of more privacy. It is a great garden room idea because your guests can escape there for a little bit of relax and also it is more comfortable for you.
Home office – having a home office in your garden brings more of living space to your house itself. But also is wonderful for you when you want to run away from the noises of everyday live which are happening in your main house. You can also add some floor to ceiling windows this will bring more of the garden area into the room.
Summer house – this could work as living room space and could have anythning you in fact need to relax and spend good time.
Glass garden room – if you are person who is working from home it doesn't mean you have to close yourself from the outside world. This wonderful garden office can bring you close to nature. Make sure that contemporary garden room will give you all of the views for your outdoor spaces.
Timber garden room – in fact timber garden room can keep you close to nature. Choosing this kind of garden room you will be able to keep all of colors of your garden room in tune with your outside space. This type of garden room can be created in different shape, size and wood type.
Pool house – you will be able to storage there extra towels, chairs and umbrellas. You could even think of instaling bathroom there not to go to the bathroom in the house and bring the water inside your main house.
Garden workout space – just think how wonderful it would be to work out in a space that is opened to nature.
Tea house – are you running out of space? Well if so tea house could still be great garden room idea to provide enough space to build a small house office.
How to style a garden rooms?
Are you wondering how to style your garden room? Well here goes some ideas.
If you would like to have contemporary design you can consider having: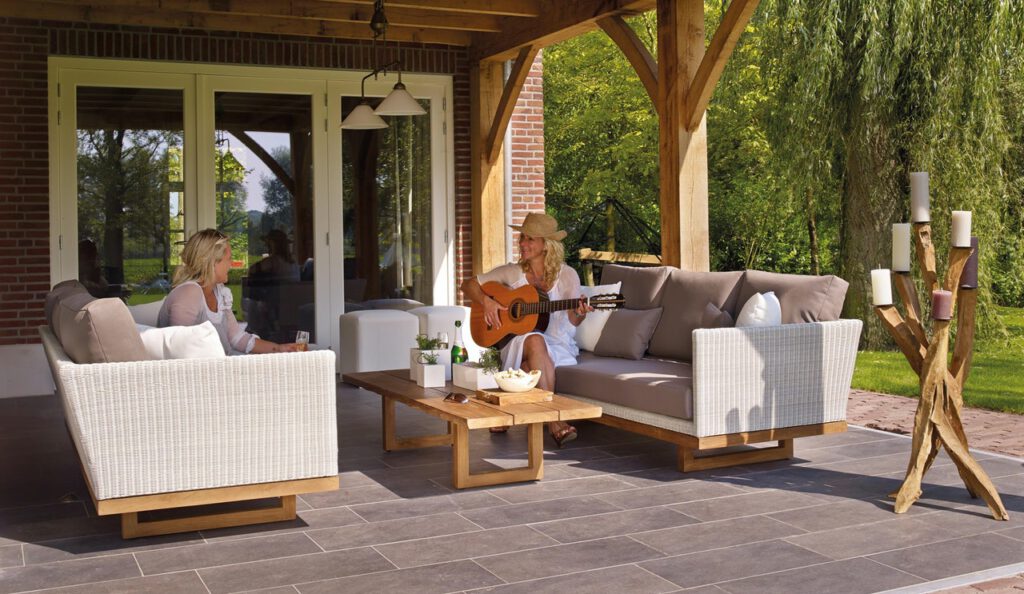 skylights (will provide natural light),
decking,
french doors,
cube designes,
floor to ceiling glass walls,
sliding doors,
wood floor,
bifold doors.
If you want to go into industrial style you should go for:
living room decor,
strong lines,
heavy duty materials,
black colors are great contrast colors to the greenery of your garden.
Garden room installation and planes
In fact contemporary garden rooms are mist of the time done by specialist companies which tend to offer full installation service. If you have a power supply fitted this will let you simply install lighting and also run appliances – this will be wonderful when the sun goes down and it gets darker outisde.
If you are planning to use your garden room as a pernament bedroom this may require planning permission approval and also building regulations sing off.
Tips
Here you will be able to find some cool tips that you could use for your garden room.
Here goes some ideas:
a large garden room could work wonerful as a kitchen-dining area,
decorative touches like garden furniture will extend your garden room space and create very cozy look,
if youare looking for frameless effect of your garden room you should go for slim framed sliding doors,
think of installing heating system like for example underfloor heating which will make it feel warm in winter – thanks to this your garden roomm could be used all year round,
you can use a bench or some decorative structure that will be a great focal point to your curving pathways,
you could also grow a treat to add some shade to your garden room seating area.
Conclusion
Garden rooms are getting increasingly popular nowadays, so maybe it is also a great idea to have it on your own if you still thinking of it and have some unused corner? So if you are convinced now after you got inspired with our article to have a garden room on your own create your garden house design.