With help of this article you will be able to find out what are the best trees to grow in pots. Make your patio look beautiful with potted trees! In fact choosing potted trees for patio can just make huge differance to your backyard.

Ideal potted trees for patio
There are few things you have to consider before you will choose your patio trees. It all depends on it what you desire to have.
If you are looking for trees that will require low maintenance it is very important for you to choose tree which will be compatible with your local climate and won't need much of pruning.
Another thing you should consider is the place you will put your potted trees. Think of where you gonna put it, if you want to place them in some shade or full sun. Choose the varieties which are going to be suitable for the area.
Also is it very important to take a look on the sizes of trees when they are going to be mature. Some trees will be okay to grow their whole life in a pot but others may need to be planted in the ground at some point.
Trees have really hungry roots so it is very important to pay attention to the size of container size.
Potted patio trees
Here you will be able to find some of the examples of potted trees that you can grow in your patio.
Olive tree
Olive tree is just ideal for containers. While they are grown in the containers you can easily bring them to some kind of sheltered spot for the winter season. Olive tree aren't okay with winter. So it is very important for you to provide them some kind of cover and sheltered spot for winter time. Those trees love warmth and sun and can be well when it comes to dry areas. However if you will want your tree to grow olives you will have to provide them the right conditions. For this tree to give fruit you will have to provide them with about two months of temperatures below 10°C but above -10°C.
Japanese maple tree
Japanese maples are also called acer palmatum. Japanese maples are just wonderful choice for pots in almost each climates, it is also great when it comes to dealing with cold winters. Japanese maple are slowly growing trees thats why they are ideal for small gardens. Those trees also require minimal pruning. You should place this tree in cool area that will provide them with some shade at the time of the hottest days.
There are varieties like Crimson Queen and Bloodgood which have spectacular fall foliage.
Lemon trees
Lemon trees can be wonderful outdoor plants durning the spring and summer time and also awesome house plant durning harsh winters. This is the reason why planting trees like those in a container is the best solution. Those trees are in fact very hungry plants thats why you should pay attention to things like:
good soil based compost,
add some grit/sharp sand to improve drainage,
let the them dry out between watering.
Tip: Durning hot afternoon sun this plant can use some of shade.
Cypress trees
To be honest we will talk about the dwarf varieties of those trees which are dwarf conifers. Those trees will provide you some privacy in the backyard. Examples of dwarf conifers are:
yew trees,
chinese juniper,
mountain pines.
Bay tree
Bay trees have very aromatic leaves that can be used in cooking – can be used fresh as well as dry. Bay trees are in fact very easy to be looked after. All you gotta give them is some good sunny spot and just feed it regularly.
Tip: repot your bay trees every few years or so till will keep them healthy and even encourage fresh growth.
Amelanchier
Amelanchier is small and slim tree. But to grow it in a pot you will need large containers so it can thrive. This kind of tree prefer acid soil so you should plant them in ericaceous compost.
Rhododendron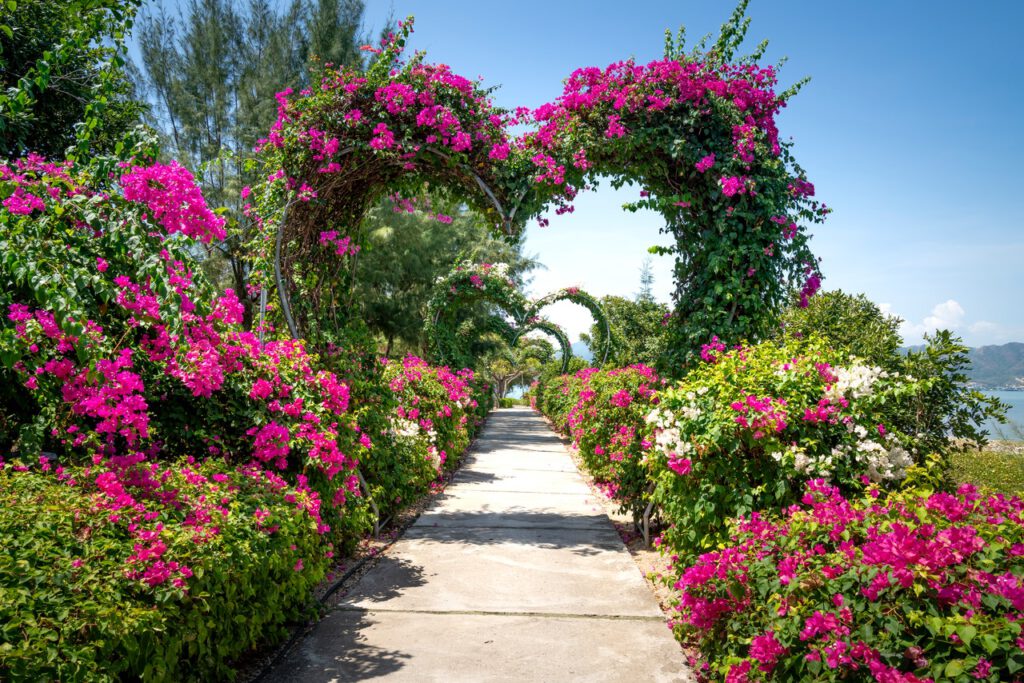 Rhododendron is very beautiful tree that have pretty flowering with red white flowers durning summer. It is evergreen tree. It possesses very attractive dark green leaves year round.
Sambucus nigra – Black Lace
This beautiful tree have almost black dissected foliage and flat topped  creamy pink flowers. It is one of the best trees to grow in a container. However it will need larger container because at least 24 or 60 cm in diameter and just as deep. Should be placed in full sun or partial sun. It is growing fast however can be pruned so you will be able to keep it under control.
Gardenia
Gardenia needs lots of sun. Gardenias dark green leaves are in fact waxy if are grown in right conditions. Gardenias are growing in temperatures of around 65° F. When they are growing outdoors they are doing well in direct sunlight.
Buddleia
This tree is also called the butterfly bush. It thrives in sunny locations when will be planted in well draining soil. Those trees grow fast so it is very important to provide them with as large container as it is only possible. Keep your plant 3 to 5 feet tall with pruning. This plant blooms durning early summer and is attracting birds and butterflies with their fragrant flowers.
Indian Hawthorn
This plant is ver tolerant to full sun and partial shade and is in fact drought tolerant. This is an evergreen shrub. It has green foliage throughout the year and pink flowers in late spring.
Fuchsia trees
Fuchsia trees creates very colorful display of beautiful flowers which are rich in colors. Fuchsia's are in fact the most beautiful when are grown in half shade and cool places. Keep it well watered because it is a key.
Interesting informations
lot's of small trees grow very well in pots outdoors,
tree planted in a pot will dry way more quickly than the tree planted in the ground,
it is very important to remember that not all trees are okay to be grown in pots. Choose the one which are slow growing,
pay attention that citrus plants gets enough light and water regularly,
when the winter comes you may have to take trees inside to shelter them form frost, so it is very convinent to grow trees in pots,
bluddleia likes loose soil and full sun,
if you are considering on having a container grown trees you should consider things like potting soil, pruning, fertilizer, dropping seeds, drainage holes in pots,
potted trees can be pruned into trees forms with multiple trunks,
there are also container friendly trees like palm trees, weeping fig, sweet bay or some varieties of pine trees,
you can make your poted try look like perfect potted tree with help of terra cotta pots or some decorative planters,
to limite the mature size of the tree you can use technique called root pruning. With this process you can even produce new trees,
root pruning requires gently pulling out the plant of the soil and with help of sharp knife you will be able to trim roots and replace in the existing pot.
Conclusion
Now you know that you can have your own container grown trees and it isn't that hard to take care about them. However you have to remember that not all trees can be container trees.
If you are worried that you won't be able to get those potted trees don't worry because there are many of them being sold in garden centers. Yest that is that easy to have your own lovely patio tree.