We all love sitting outside when it becomes warmer outdoors! Being outside and enjoying some sun when spring starts is the best thing ever. Isn't is just wonderful when you are able to sit and drink your morning coffee outside?
There are many styles of garden seating it may for example be wicker armchairs, swings, hanging chairs and many more. Read the article to find some inspiration that can be used in your garden for an outdoor seating.

Outdoor space and outdoor seating ideas
It is doesn't matter what is the style, size or theme that your garden is in, there is something for everyone when it comes to garden furniture.
When it is getting warmer outside and it is this time of the year when you want to be outside more than inside it may also be a good time to invest in comfortable outdoor seating. Here goes some of the ideas for you to create a perfect spot in your patio, balcony, porch or garden:
Easily storage seating
If you are a person that own's balcony this could be a wonderful way. Why? Well because when you will choose a set of a bench and table you will be able to get more people to fit and also noone will have to pull in and out chairs. Also it is a good idea because you can simply slide benches under the table when they aren't being used.
Floating bench out of wood
This floating wooden bench is a wonderful idea it s built into a sunken patio which is allowing you to some rest midst of the lush garden. This bench is also long enough to lay on it if you want to be relaxing on sun day and maybe sunbath a little!
Full set with round table
This is a wonderful way out for small spaces. If you have a tiny patio and still want to have a seating area there this set with chairs and round table will do it's job.
Set of outdoor furniture
This set has got everything starting with sofas, chairs coming to a dining table. Thanks to this you can simply have functional place to have dinners with your friends and family. With this set of outdoor seating you will be able to bring indoors to your outdoors.
Changing chairs
Changing chairs are all the rage at the moment. They are great because you can gently swin while you are reading your favourite book in a sunny day. The best way to relax.
Patio table an chairs with tops out of the wood –
This set of garden furniture will look woderful anywhere in the garden starting from stone patio going to midst of a section of landscaping.
Outdoor room
If you are a person that loves indoors being outdoors this idea is for you. Just create a cozy outdoor room with all of the things that can usually be found outside. You can hang a TV on the wall and place a dining table with seats which could be facing TV. This idea is wonderful you could also create this room close to your pool to have also a wonderful place ideal for pool parties.
Comfortable chairs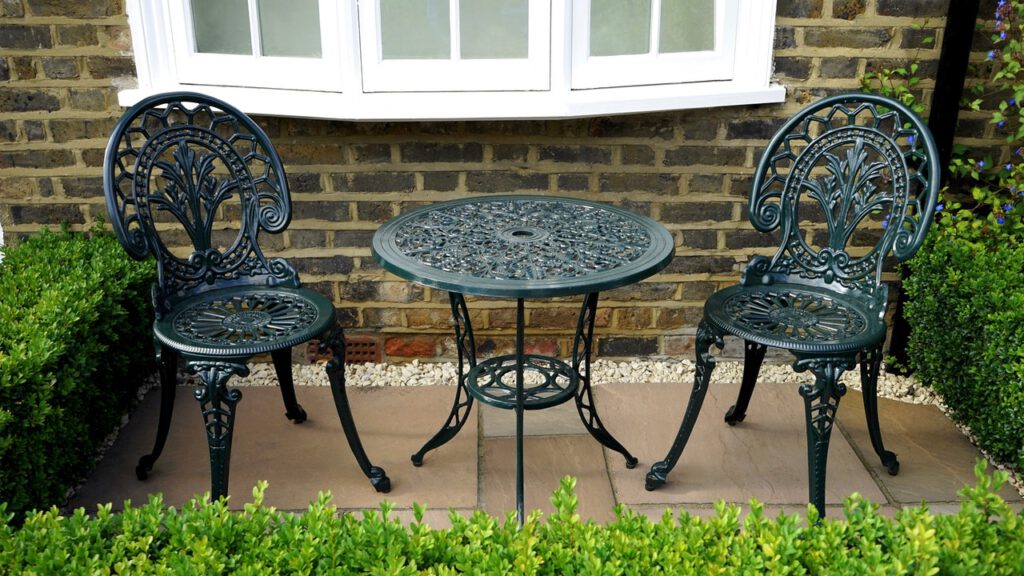 If having a sofa in your garden isn't your thing you can have chairs that are going to be placed around the coffee table. You can also place some comfortable cushions on the chairs for extra comfort.
Outdoor louge
All you gotta do is to built in benches that are going to be around an outdoor dining table. This will give you more of inside feel than outside you can also add pergola which will help in offering a little coverage. With this yard idea you could be inviting many guests that will easily fit there.
Corner sofa set
If you have some free garden space you could think of getting a corner sofa which is going to be placed next to the house on the patio or under the sheltered spot. Creating this wonderful seating area you can fill it with some kind of lighting which will bring a wonderful vibe.
Plants that can go great with seating area
Use plants to set a great mood in your garden seating place – landscaping can do the magic. This can bring a seasonal interests and tickle the senses. Here goes the plants that could work very well:
Oyama magnolia,
Summer Ice daphne,
Silk Road lily,
Basil,
Blueberry,
Strawberry,
Sunset hyssop,
Aureola Japanese forest grass,
Spiral aloe,
Flowering maple,
Japanese stewartia,
Osmanthus.
Plants can also be placed against fances and walls so they will be clambing and with this they will be able to create living green walls. It is also a good idea to have trees in your garden because they are great in providing some shade in sunny days. Also if you want to bring new life to you gardens or patios you could add a water feature which will will deliver some fresh feeling.
Conclusion
You can create your dream garden seating area with our garden seating ideas. If you think that you doesn't have enough room in your yard, patio or balcony now you know it isn't a problem. Just have a seat and relax in your seating area or maybe swing a little on your chair which is hang? Wouldn't it be a wonderful thing?
Just remember while furnishings your seating area to suit the materials right to the region you are living in. Also it is important to do this wisely for example do not put huge tables in dining area if you do not have enough place to do that.