Strawberries are one of the most popular fruits. If you want to grow strawberries but you run out of space there is a perfect solution called hanging baskets and hanging strawberry plants.
In this article you will be able to find some tips on how to grow strawberries in hanging baskets, yes thats right you can be planting strawberries in containers. So keep reading to find out many informations.
Growing strawberries in hanging baskets
Hanging strawberry plants will not only look good but also will produce fruit. However it is very important to choose right variey of strawberry plant. If you want to be growing strawberries in hanging baskets you should choose the one which is producing small berries and aren't prone to creating runners or so called daughter plants.
June bearing strawberries are the most popular options for gardens however they aren't good choice when it comes to growing them in hanging baskets. Why? Well because they tend to growing numerous runners.
If you want to be growing strawberries in hanging baskets you should go for day neutral strawberry plants. This variety of strawberry plant will give you fruit at leat two times per year (in early summer season or during fall). Varieties of this day neutral strawberry plant, perfect for hanging baskets are:
albion,
tribute,
evie,
mara des bois,
tristar.
Also you could go for type of strawberries like Alpine strawberries. Alpine strawberries are able to thrive in partial shade. They have their fruit production happening from spring to fall.
Tips on how to grow hanging strawberry plants
When you have choosen the correct varietal ideal of strawberries plant it is the right time for choosing a container for them. Your basket should be 31 to 38 cm it just has to be deep enough for the roots.
Fill your hanging basket with coir or peat moss to aid the water retention or you can also buy self watering basket and fill it with soil mixed with a good quality fertilizer or compost.
Ideal time for setting the strawberry plants is in the spring. You should also remember to position the hanging strawberry plants closer together than it would be done in the garden.
Maintenance of the hanging strawberries
In fact it all depends on the type of the hanging strawberry plants. You can consider hanging up a drip system with a timer. But if you choose not to you can give your plant long and slow watering – this will keep the soil moist. Also it is very important to give your plants a slow release organic fertilizer. Every few weeks water them with compost tea which is rich in nutrients.
Best location to grow hanging strawberry plants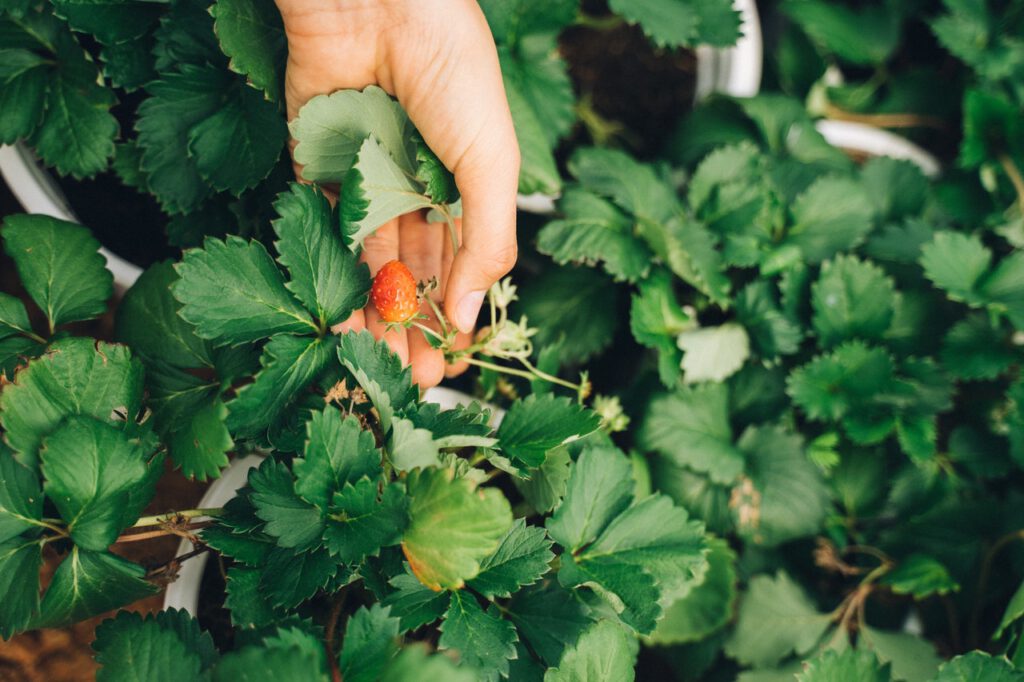 Strawberry plants are huge sun lovers. So if you are about to grow strawberry plants in hanging baskets you should rememeber that those berries should get at least six hours up to eight hours of full sun. Ifthey won't getat thiis six hours of sun they may not set fruit.
You should also pay attention to aspects like good air circulation in the place that they are going to vbe placed in. Areas with bad air circulation can cause strawberries to get moldy.
Benefits from hanging strawberries
Strawberries are very forgiveful plants they can thrive in most spaces. However strawberries are very likely to rot and also deal with ground bacteria and insects. With use of hanging basket you can very easily reduce those things.
Another benefit of hanging strawberries is the extra space which they provide you with.
Last but not least is this that you can simply move your plants it or out of the sun. But also you can protect your berries from deers or other wild animals.
Interesting facts about hanging strawberry plants
if hanging strawberries will get enough exposure to cold in winter to go dormant but not till their containers will freez they will come back every year for 3 up to 5 years,
strawberries grown great in small spaces like pots,
june bearing strawberry plants are very common to be grown in home gardeners,
day neutral varieties are compact that is it what makes them ideal to be grown in hanging baskets, and can even give a good crop the first year of growth,
day neutral strawberries gives modest harvest of sweet berries from late spring till autumn,
strawberry planter should have drainage holes because they do not like to have wet and soggy feet,
ideal planting time is early spring,
remember to upsize the pot if you want to grow more strawberries than you do now,
pots like terra cotta dries out very quick so keep an eye on soil moisture if you choose this kind of pot,
strawberry baskets should be in fact watered daily and also should be regular fertilizated.
Conclusion
Now when you are familiar with this article you know how to care for strawberry planters which will grow in hanging containers. It is a great solution for those with tiny yards who needs extra space. Hanging plants are the best solutions for those who are out of space but wants to have home garden.
So set your hanging garden if you do not have enough space in your garden to grow strawberries and enjoy berries of your own protuction.